This is a short article in support of the Borough of Broxbourne's 2017 initiative which is in support of making Hoddesdon, Broxbourne, Waltham Cross, Cheshunt, Turnford and Wormley an even nicer place to live through environmental awareness, local improvement and health development.
The Borough of Broxbourne's website states six themes for the borough during 2017:
● Recycle – Encouraging residents to waste less and recycle more
● Clean – Keeping Broxbourne clean and encouraging residents to get involved in volunteering schemes such as adopt-a-street
● Grow – Encouraging residents to grow fruit and vegetables in their own homes, gardens and allotment site
● Nature – Encouraging residents to make use of the beautiful parks and open spaces in the Borough and encouraging wildlife and biodiversity
● Air – Encouraging residents to walk and cycle rather than drive to reduce pollution and benefit their health and wellbeing
● Save – Encouraging residents to save water and energy
Acre Cars Taxis completely supports this initiative and would like to add an option in the interest of good business. Using a taxi service rather than running your own car can help contribute to the fifth environmental theme of Air.
I broached this subject in my Christmas Blog Article and would like to reiterate a couple of points concerning taxi's in the Hoddesdon and local area for local journeys and also for airport transfers and even trips to events such as Royal Ascot, where taking a taxi has safety and enjoyment benefits too.
We haven't gone electric or hybrid yet but expect things to go that way in the future as these technologies develop further. A taxi is an efficient way of getting around. As households typically have more than one car, giving up a car and utilising cycle lanes or paths (if there were more and interconnected), using buses, trains and even walking and then filling in those journeys that require transport by car by calling a taxi or cab, then overall traffic in the Borough would reduce and the contribution to the environment would be greater. Just a thought!
Taking an 8 seater taxi to an event in London or as mentioned to even for those of you that like a day at the races such as Royal Ascot has an immediate environmental positive instead of potentially taking two or three cars for the same group of people. Plus you can have a drink and enjoy your winnings worry free when it comes to having to drive yourself.
Driving is part of my job along with running a taxi company, so for me, a walk with the dogs is a means of light healthy relief. But could you think of using the car less or even getting rid of your car? Just think about your day, could you do some of your journeys alternatively, rather than dragging your car around with you? Would it be cheaper overall just by booking a taxi just when you need it, rather than running your car all year-round? Would your journeys actually be quicker and stress-free? Possibly!
If you are like me, then you just enjoy driving and appreciate cars. But not everyone is the same and it is definitely worth considering other transport options including cycling, walking, bus and taxi, as the traffic and the cost of running vehicles continues to increase, not to mention the emissions that will continue to increase especially during peak periods in Hoddesdon, Broxbourne and Waltham Cross.
Appreciating the environment is not just about reducing cars and pollution it is also enjoying the open countryside we have in Hertfordshire and all the woodland, parks and open spaces we have. Another reason to be positive for 2017, we live, work and socialise in a great area and are lucky to be able to enjoy such opportunities.
Tristan
Owner of ACRE cars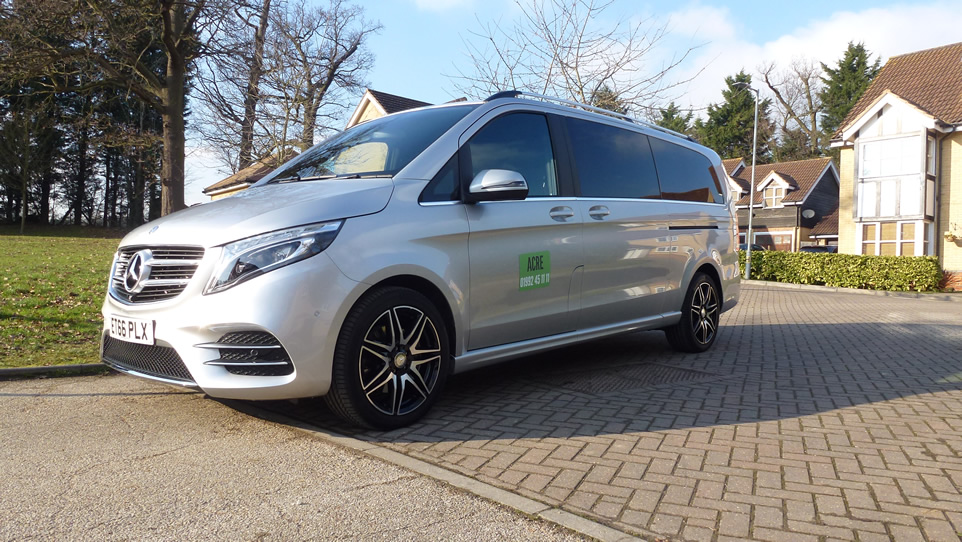 Interested in becoming a hackney carriage or private hire driver? You may wish to read this article; Working as a Private Hire driver for ACRE Cars Taxi's.
ACRE Cars is looking to recruit new drivers, If you have any questions or want to discuss the possibilities please contact me.
You can follow ACRE Cars on Twitter and Facebook.
ACRE Cars is a competitive car service. Our rates to airports and collection from airports and other transport hubs are extremely competitive to any other taxi or minicab company running similar services and ACRE also includes free of charge hire of a child safety seat, for long journeys, for each child passenger under four years and under the height of 135 cm.
We pick up customers locally from Hoddesdon, Broxbourne, Wormley, Cheshunt and London as well as Nazeing, Stanstead Abbotts, Ware, Hertford, Hertford Heath, Hailey and Harlow and all other neighbouring towns and villages. Popular airport taxi transfers include Stansted Airport, Heathrow Airport, Gatwick Airport, Southend Airport, Luton Airport and London City Airport. Sea Port transfers and major train stations including Victoria, Kings Cross St Pancras, Stratford Ebbsfleet and Ashford.
The views in this blog article are my own and based on my own research using the internet and not that of ACRE Cars or ACRE group.