Get home safely with our practical guide and tips to avoiding dodgy cabs and touts.
Taxis and minicabs are an easy way to get around but unfortunately, there are risks associated with using unlicensed minicabs and taxis not associated with local operators and also unreputable drivers working for unreputable pre-booked operator companies.
Unlicensed drivers may be unlicensed for a number of reasons such as because they don't have hire-and-reward insurance, they may not know their way around very well and therefore cannot get a license from the local licensing authority such as the Borough of Broxbourne, or may even have a criminal record.
As an owner of a reputable and safe taxi company, I am able to provide some guidance that you can apply to any taxi journey you wish to make with any company.
Always use a licensed taxi/minicab / pre-booked operator.
Taxis (Hackney Carriages) can be hailed in the street. In London, black cabs are obvious but check to make sure they have a Hackney Carriage licence plate on the back that is to date and matches the vehicle number plate and has an illuminated taxi sign on top. Similarly, check other Hackney carriage cars that the rear plate is valid.
Always use licensed minicabs. Minicabs / pre-booked cars should not be hailed in the street. They must be pre-booked by phone or in person at the operator's office. The driver should have ID and the vehicle will have a license displayed on it. Minicabs (not Hackney Carriage) that pick up fares on the street, without being pre-booked, are illegal, potentially uninsured and most likely very dangerous.
When booking a taxi or cab, ask for the driver's name and the make and colour of the car that will be collecting you. Confirm the driver's details when they arrive – is it the car you booked? Do they know your name i.e. the person they are collecting?
Sit in the back of the car behind the driver if you are alone and be careful not to give out any personal details to the driver.
Trust your instincts and if you are at all worried, ask the driver to stop in a busy area and get out of the car. If the driver refuses to stop, use a mobile to call the police and alert other drivers and pedestrians by waving or calling out the window.
ACRE Cars like any other professional pre-booked car operator and brands local Hackney Carriage drivers vehicles also understands the do's and don'ts only too well as we see the mistakes people make when hailing down a taxi for example on a busy night in Hertford. How do you know who you are hailing down? Are they preying on vulnerable people? Is the car safe and roadworthy? Is the driver fit to drive?
You can hail a black cab or Hackney Carriage in the street, while a mini-cab can only be used if you've pre-booked it. These will have an extra licence plate on the back of the vehicle showing that they are registered and, therefore, legitimate. However, in Hoddesdon, Hertford, Broxbourne, Ware, Stanstead Abbotts, Cheshunt and surrounding areas including Waltham Cross and Waltham Abbey it is highly advisable to pre-book your car or take a taxi from an official taxi rank.
You can book an ACRE Car anytime by calling 01992 45 11 11 or email us or use our APP for iPhone or Android or even contact us via our Facebook page.
The last blog from ACRE covered the safety benefits of using the ACRE Cars taxi booking app, with features such as text a friend or relative when your journey is complete. Read more here.
This may apply more to London and other major cities possibly but touts who ply for business late at night will claim to offer cheapest prices and best service and this is becoming more commonplace in towns.
Touts may not have the correct insurance, some will rip you off. As you are being lured into what is a stranger's car, there is also the risk of being mugged or attacked.
Only use licensed taxis, and if you are unsure, ask a police officer which companies you can trust.
Book your taxi online, by phone, or in a taxi/cab office, and not through someone on the street. Ask for the name of your driver when you book it and when you are collected ask to see their ID and ask what the name is of the fare they are booked to pick up (as an imposter will not know your name!).
Is the taxi or pre-booked car clean and well presented? If it isn't, then you should refuse to get in. A poorly presented or car that doesn't look properly maintained may be a sign that it isn't roadworthy, while a professional driver will always do their best to make a good first impression.
If you are travelling alone, always sit directly behind the driver. This makes it almost impossible for the driver to overpower you and it also places you away from the kerb, making it harder for anyone to open the rear door from the pavement to snatch your bag.
If your instinct tells you that something is wrong, then ask the driver to stop so you can get out, pay the full fare and stay around a public area until you can call ACRE Cars for a car. We will always try and help and you will be safe. A few pounds lost is probably worth it!
If the driver refuses to stop, phone the police, shout out of the windows and wave your hands at other drivers and passers by to gain their attention.
It's tempting to accept a stranger's offer to share a cab to cut costs, but this is a mistake. Your fellow passenger may well be in league with the driver, leaving you vulnerable.
I hope this information is useful and if you have any questions please do get in touch.
Tristan
Owner of ACRE cars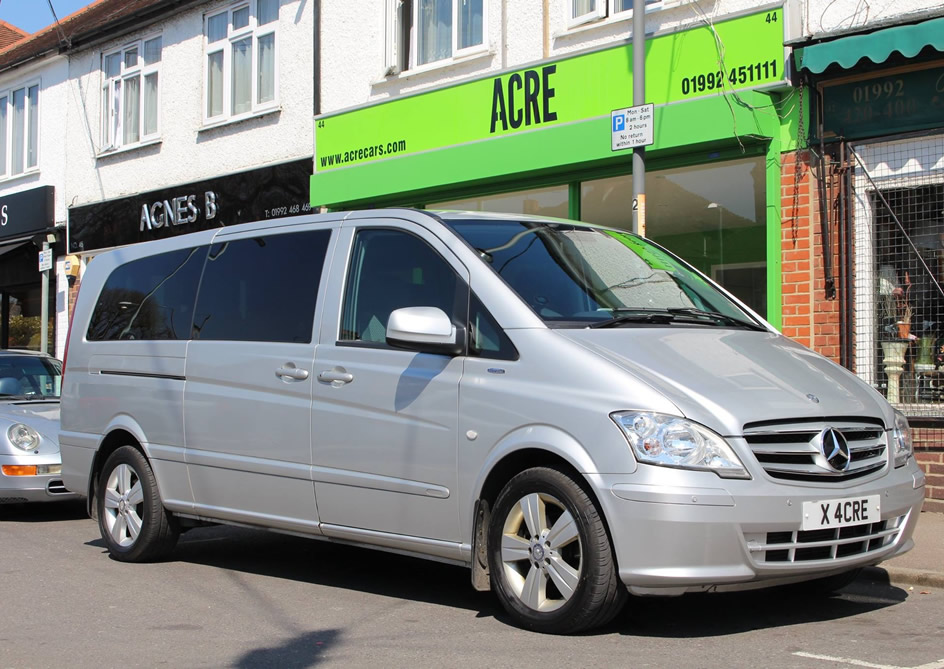 Coming Up:
Year of the Environment – 2017 is Broxbourne's Year of the Environment
Interested in becoming a hackney carriage or private hire driver? You may wish to read this article; Working as a Private Hire driver for ACRE Cars Taxi's.
ACRE Cars is looking to recruit new drivers, If you have any questions or want to discuss the possibilities please contact me.
You can follow ACRE Cars on Twitter and Facebook.
ACRE Cars is a competitive car service. Our rates to airports and collection from airports and other transport hubs are extremely competitive to any other taxi or minicab company running similar services and ACRE also includes free of charge hire of a child safety seat, for long journeys, for each child passenger under four years and under the height of 135 cm.
We pick up customers locally from Hoddesdon, Broxbourne, Wormley, Cheshunt and London as well as Nazeing, Stanstead Abbotts, Ware, Hertford, Hertford Heath, Hailey and Harlow and all other neighbouring towns and villages. Popular airport taxi transfers include Stansted Airport, Heathrow Airport, Gatwick Airport, Southend Airport, Luton Airport and London City Airport. Sea Port transfers and major train stations including Victoria, Kings Cross St Pancras, Stratford Ebbsfleet and Ashford.
The views in this blog article are my own and based on my own research using the internet and not that of ACRE Cars or ACRE group.